#1. Choker Competitions: Rigidness vs. Fragility
Choker mania kick-started earlier in the spring/summer 2014 season and we came up with clear understanding even then that this trend is really happening and will happen for a long time yet. How could we be so sure? History repeats itself. In not-too-distant Nineties when we were all pumped about that black pendant choker on Leon's Mathilda or those plastic tattoo chokers on cool schoolgirls, these tricky pieces were already up to assume new disguises for the future. We see the result on the fall 2016 jewellery trends running over with thongs of choker necklaces. What else to call it if not a real competition when a fashion-conscious girl is literally caught between two stools – namely, between Balmain's chunky metallic-glassy chokers and Dries Van Noten's fragile feathered ones, between Loewe's rigid golden chokers and Fendi's furry sweet nothings, between Lanvin's gemstone neck-jailing chokers and Luisa Beccaria's tender velvet stunners? Dilemmas do not end in here but drag on and on from Oscar de la Renta and Saint Laurent to Antonio Marras and Chanel.
#2. Statement Pendants
There seems to come no lull for pendants, really, from ancient amulet and religious pendants to contemporary statement ones. The recent fall/ winter 2016-2017 jewellery trends have it made in the shade to tout a range of eye-catching pendants distracting all attention from those tiny tender ones. Indeed, those medallion garden-variety pendants spotted at John Galliano or tiny fang ones happening quite frequently at Trussardi were undeniably delicious and lovesome but left in the shade next to those gargantuan napa pendants at Loewe in the shape of feline and human faces or in the shape of metallic golden handbags. We are going further to find those large-scale twisted metallic pendants at Valentino too or the kaleidoscopic ones at Anna Sui and if the fantastic tour is still afoot, there come into view the cigarette-lighter shaped pendants at Moschino, the spring-shaped ones at Opening Ceremony and those three scarlet gems at Ralph Lauren to form a delicate pendant choker.
#3. Ear Cuffs, Multiple Piercings and Other Punk Solutions for Ears
When we state that the Nineties are coming back, pop-punk ear candies are surely among them forming one of the most viral fall/ winter 2016-2017 jewelry trends. The pop punk movement reaching its apogee in the '90s as the logical continuation of the punk movement broken out in the '70s brought ear cuffs and piercings forefront as number one barometers of the devotion to this style. Today's punk earrings do not necessitate any intimacy with punk culture or any colored Mohawk hairstyle to take on. They were rendered out in so many styles on the recent runway shows that chances are to adapt them quite successfully with your romantic, casual and elegant styles alike. And this is not preaching to the wind but a well-grounded statement. Just run an eye over those chain ear cuffs at Alexander McQueen trickling down with butterflies, stars and other lovey-dovey items and working so triumphantly within the romantic moon theme of the show. Then stop at Saint Laurent to relish in those haute-couture-worthy ear cuffs as the finale tidbits by Hedi Slimane or at Balenciaga just to make sure that wrap-around ear cuffs look equally mind-blowing within underground chic a la Demna Gvasalia. The gothic models of Dior bring about multiple-piercing craziness, while at Koché it is all about ear and nose piercings rolled into one.
#4. Punk Must Go On: Safety Pins, Buckles and Heavy Chains
Given that the fall/ winter 2016-2017 accessory trends are in quest of revitalizing rebellious, anarchistic and adventuresome sides of women, it comes as no shock to see so much punk around at times mixed with gothic gloom and chagrin. English safety pins, buckles and heavy chains literally streamed in to form another big accessory trend. All kick-started in New York at Alexander Wang's "Strict" runway show, when buckled chokers came to mix with chains then passing the torch of tension to Alexander McQueen at London Fashion Week full of charmed chains. Moschino in Milan again brought about a crazy mishmash of chains and leather buckles but the punk festival reached its pinnacle in Paris – we were treated to buckle chokers at Gucci, red buckle wristbands and safety pin brooches at Isabel Marant, giant safety pin earrings at Sonia Rykiel and Balenciaga, and safety pin necklaces spotted at Celine. No doubt, anarchism is underway.
#5. Multi layering Your Jewellery Is On!
What is the best jewellery piece to glam up any plain look in a flash? Layers over layers, in a nutshell, multilayers. They always cut the mustard in dolling up whether warm winter outfits or summer lightweight slip-ons coming in different materials and styles. The forthcoming multi-layered necklaces are mainly metallic with two, three or four tiers cascading down and full of some knick-knack charms like we see at Valentino and Etro or showing off some dishevelled chain layers dropping down from chokers like at Alexander McQueen. For the most exquisite multi-layered necklaces, lay a bet on those pearly intricate ones at Chanel.
#6. Raw Stones A-Going
How else should raw stones play for the upcoming cold seasons if not hardball? This is one of the biggest fall 2016 jewellery trends popped up quite unexpectedly on the runways in a pop of colors, begetting pendants or bracelets, rings or earrings. If at Elie Saab a range of raw stone pendants and earrings is playing in 50 shades of purple, at Alexis Mabille all eyes are on those gigantic dodger blue necklaces and rings blowing away all the cobwebs instantly. Check out Proenza Schouler, Dries Van Noten or Calvin Klein Collection as well to garner even more enlivening raw-stony impressions.
#7. Single Earrings
Single earrings have been all the rage for a long time now but kicked it with even higher gear on recent fall/winter runways in all styles possible starting from Loewe's hoop earrings and Isabel Marant's ball droplets to Anthony Vaccarello's bejeweled elongated threads and Roberto Cavalli's amulet earrings beaming over with charms. The moral of the story? To launch a challenge against your minimalist fashion predilections!
#8. Twin Bracelets
We are not sure about the fashion designers' motives to churn out so many twin bracelets worn on the wrist as alike as two peas in a pod, but it seems there has been a stealthy glance at prisoners. The fall/ winter 2016-2017 jewelry trends are running over with twin bracelets evocative of handcuffs only without the linking chain, and truth be told, if ever to live through hand jailing moments, then with these twin bracelets all in vogue now. No matter if they are chunky like we see at Dsquared2 (twin brothers standing behind twin bracelets) or delicately thin as at Anthony Vaccarello and Alexander Wang, they easily pull off to sweep us off feet. To cap it off Chanel's cuff versions are fiercely attacking, all bejeweled, in the shape of hearts and worn over sleeves or knit gloves. Among other attackers are Marchesa, Zimmermann, Bottega Veneta, Saint Laurent, Trina Turk and many other fashion houses in between.
#9. Flitter Flutter Tassels
When we are over and done with everything punk, rock and gothic, those bohemian tassels are breezing in flittering and fluttering all the while. Apart from appearing on handbags and shoes, tassels carry on conquering new territories on the fall 2016 runways shaping up another enlivening jewellery trend we are so impatient to embrace soon. The widest scale tassel purveyors appeared to be Dsquared2 and Elie Saab, the former with its playful droplet tasselled earrings, while the latter with its rope leather necklaces with tassel ends undulating hilariously, not to tell about that tasselled deluge on a range of lace dresses. Don't miss other tasselled jewellery samples at Gucci, Tory Burch, Antonio Marras, Tod's and Marchesa.
#10. Pearly Avalanche
There is one and only guaranteed method to become pearl of beauty – to fling yourself into pearly avalanche. Pearls have always read elegance and chic, befitting mature women more than young ladies. But when it comes to the fall/ winter 2016-2017 jewellery trends, nothing is left but to break up all the clichés. How not to do it if those pearl strings come into view at Miu Miu or Moschino so provocatively matched with those ripped and slovenly denim pieces? Is it possible not to blank out the elegance factor of pearls and not to get enamoured with those pearl necklaces + sportive outfit combos at Rag & Bone or those intriguing thread earrings spotted at Gucci and Marni? And if you crave for touching the eccentric side of pearls, there is no better venue for that than Dries Van Noten's runway, where Marchesa Luisa Casati was flaunting demonstrating multiple pearly rings, single pearl brooches attached on the neckties or pearl-topped pins pierced into chokers. However, the thongs of multi-layered pearly necklaces at Chanel have pulled off to keep elegant traditions yet adding some playfulness throughout.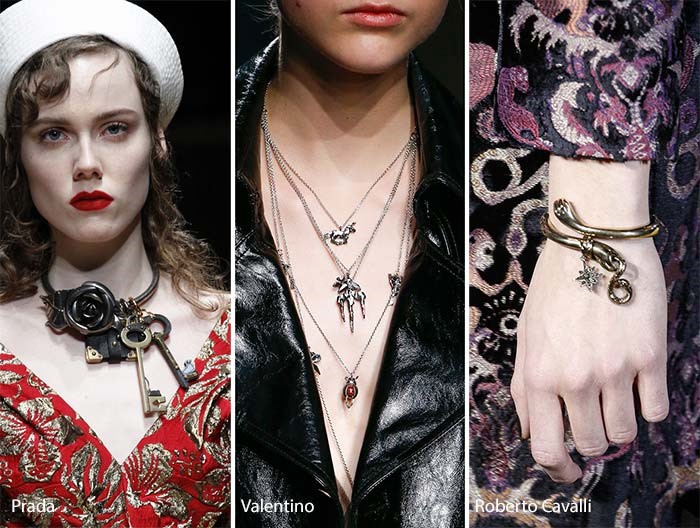 #11. Jingle-Jangle Charms and Amulets
The next fall 2016 jewellery trend on our list stands for stars, keys, hearts, half-moons, evil eyes, books and all the jazz that were clustered to form different jewellery pieces jingling-jangling happily – earrings, necklaces, brooches and body jewellery at Alexander McQueen, single earrings at Roberto Cavalli, a range of labyrinthine necklaces and belt trinkets at Prada, and tiered necklaces at Valentino and Temperley London. So if these amulets fail to protect you from danger or harm in the cold seasons to come, mind-blowing looks of yours are guaranteed, for sure.
#12. Not So Matchy-Matchy Earrings
The symmetrical beauty period is consigned to oblivion. The more asymmetry is around, the more beguiling looks are to be expected. That's why not so matchy-matchy earrings are all de rigueur at this juncture making a voyage from the previous spring/summer season to the fall/ winter 2016-2017 accessory trends. While at some fashion houses earrings differ only in length like we see at Sonia Rykiel or Ports 1961, other designers have dared to expose variously-shaped samples much as we see at Alexander Wang, Isabel Marant, Topshop Unique and at Christian Dior, where different ear piercings are brought forward.
#13. Half-Done Jewellery Pieces
Catching some half-done jewellery pieces on the fall 2016 runways does not mean that our favourite fashion designers have under-fulfilled their tasks. This is just a trend that might come right up your street or not so much. Half-done choker necklaces whether with pendants or not are spotted at Mulberry, Creatures of the Wind, Stella McCartney and Tommy Hilfiger and a smattering of unfinished bracelets at Alexander Wang and Tod's.
#14. Princess-Worthy Shine
Luxurious diamonds and rhinestones were shining with all their glory at the fall 2016 runways as well, thus providing their carriers with princess-worthy visages. With our eyes trained to see these ravishing pieces on special occasions only, the recent seasonal shows came as pretty good argumentative that they might work equally mind-blowing in everyday life. While at Marchesa and Saint Laurent those shiny jewellery sets were up to the haute couture category, at Ashley Williams and House of Holland glowing necklaces and earrings whether tiny or massive were triumphantly adapted to everyday pantsuits, baby-doll dresses, skirts and more.
#15. Mono and Multi Rings
Pretty rings have been ringing off the hook all the while when it comes to the fall/ winter 2016-2017 jewellery trends, whether happening in abundance on one hand or lodging solo on a finger. Whether gigantic or tiny, coloured or shiny we truly get a kick out of those mono stunners at Alexis Mabille, Bottega Veneta, Oscar de la Renta and Stella Jean. But then admirations are doubled up with the arrival of those multiple pearly rings from Dries Van Noten and Gucci (the latter also exposing a glove-style mesh bracelet + rings combo), buckled ones at Louis Vuitton and metallic charmers at Valentino, Christian Dior, Coach and Proenza Schouler.
#16. Kaleidoscopic Beads and Gemstones
The fall/ winter 2016-2017 accessory trends are a good chance for us all to hark back to our childhood, grasp that magical kaleidoscope and twist it over and over again. At Lanvin it was all about pastel shaded gemstones that had a mission to form massive chokers and dangling earrings in spades. At Bottega Veneta exotic jewellery sets were done within the blue-green colour spectrum, at Dries Van Noten iridescent geometric beads were put together to form elongated head-turners, while at Ralph Lauren a chic kaleidoscopic necklace brings about some "regality" with that crown shape in between to just add extra evidence.
#17. Bracelets over Sleeves and Gloves
Oh, my stars and garters! We are in the thick of far the most inspiring jewellery trend for fall 2016 – to wear cuff, bauble or any other bracelet styles over sleeves or your cool gloves to create an overcool visage. Karl Lagerfeld is seemingly leading the pack in this trend working out a range of twin bracelets worn over killer gloves at Chanel; at Prada rose-shaped bracelets are worn over knit gloves, while at Ralph Lauren it is a waist watch to have found its appropriate venue over a knit taupe jacket sleeve. To get even more inspiration for this trend, there are still Maison Margiela, Undercover, Opening Ceremony and Oscar de la Renta, just to name a few.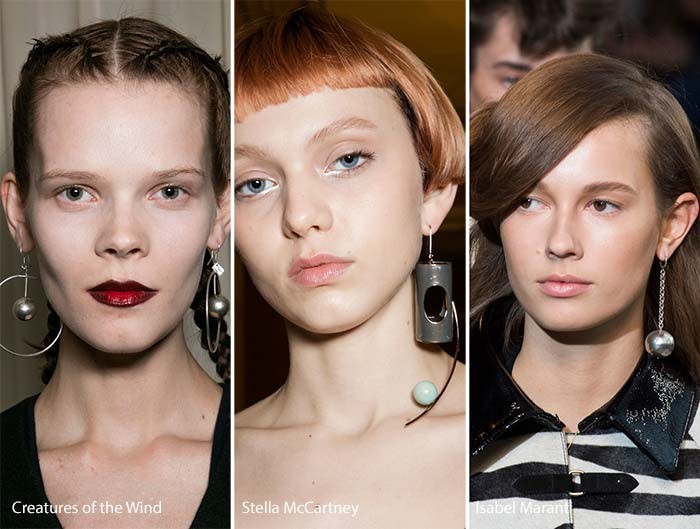 #18. Geometric Pleasures
Even if your great obsession with liberal arts has never allowed you to vote for geometry, falling for pretty materialization of geometric shapes on jewelry pieces is more than feasible now. To check your reaction to them, just look to the fall/ winter 2016-2017 jewelry trends that were working restlessly for your geometric pleasures. Tackle many linked golden circles and circle + rectangular combos from Loewe, iridescent plastic earrings and brooches in all geometric shapes possible from Emporio Armani, crescent and cylinder shaped single earrings at Stella McCartney, many hoop earring versions at Creatures of the Wind and Zimmermann and sphere droplet single earrings at Isabel Marant. So isn't there any sincere confession now?
#19. Melted or Twisted Effect Metallic Earrings
If it so happens that your jewellery box needs some pretty effective replenishment at some moment in the future, melted and twisted effect metallic stunners shining and beaming on the fall 2016 runways are to complete that task victoriously enough. Among the trendsetters in this sphere is primarily Valentino with its elongated metallic earrings and statement necklaces that seem to have been gathering dust somewhere deep in a dower chest, then brought to surface for not-in-the-cards trend. We see twisted metallic earrings in some amorphous shapes and with mirror-reflection shine at Mugler and a thread of golden ones suggestive of a melted-then-frosted metal.
#20. Flora and Fauna-Inspired Jewellery
Whenever we bump into the fall/winter seasonal shows we know it beforehand that the flora and fauna fad of ours will not be so easy to satisfy as in the warm season. However, this time around we have flowers in droves whether as garment prints or as accessory shapes, albeit not so vibrant and fresh, but more frequently in muted and frozen shades. The rose-shaped vintage chokers and bracelets over gloves are spotted on Prada's adventuresome models, a fragile bubble-gum flower-brooch and a metallic floral pendant – at Gucci, while at Diane von Furstenberg it is the floral chokers to make the scene. However, when with Rodarte there comes to be no lack in as-if-freshly-cut realistic flowers – bunches of iridescent flowers clustered together to shape vertiginous wrap-around cuff earrings, necklaces and hair accessories with some metallic samples in between, the full monty spreading dizzy aroma around. Fauna representatives are not dormant either from friendly butterflies and dragonflies at Anna Sui, Roberto Cavalli and Bibhu Mohapatra to fierce tigers on Gucci's belts, handbags and rings.
#21. Itty-Bitty Brooches
From the Bronze Age to the Information Age, brooches still have their powerful say in the fashion industry. We were the witnesses of brooch explosion at the spring/summer 2016 runway shows and now we keep on gathering the splinters of the explosion as browsing through the fall/ winter 2016-2017 jewellery trends. Start from chaotic brooches whether metallic or bejewelled at Alexander McQueen, Dolce & Gabbana or Christopher Kane and end at Emporio Armani to observe those statement geometric brooches on blazer lapels or at Lela Rose to relish in that single leaf brooch. Check also Banana Republic, Bibhu Mohapatra, Isabel Marant, Luisa Beccaria and Maison Margiela for more dazzling views.
#22. Chic Wristbands
Chic wristbands albeit shown not so frequently on the recent runways are surely to fascinate you all out there and make a big hit down the windy autumn streets. Worked out of different materials, whether bedecked or decoration-free they might always kindle general interest towards your persona especially when you opt for those wavy and ruffled leather ones spotted at Fendi. To combine a chic view with soft feelings, go hell for leather to get those furry ones at Blumarine or Christopher Kane, while at Elie Saab everything is more bohemian and exotic – a range of suede wristbands decorated with raw stones.
#23. Body Chains and Jewellery-Worthy Clothing Embellishments
The eclectic fall/ winter 2016 accessory trends have thongs of jewellery options squirreled away for us that are to be unpacked generously as if a compensation to the attacks of the cold streams. The most high-voltage compensations are to be provided by those body chains chaotically fixed on garment pieces like protective armour, much as we see at Alexander McQueen (blazer lapels united by helter-skelter chains), Vetements or at Moschino with chains stretching along sinister black dresses in skeleton shape. When chains are over, intricate jewellery-worthy embellishments come to arena with Gucci playing the first fiddle here – multi-layered strings of pearls fixed on a mini dress with necklace- illusion, a regal panoply on the bib of a black transparent dress or some bejewelled bow-shaped adornments on a couple of pieces. To go further with the royal embellishment theme, head to Marchesa, but a second-to-none sample surely comes off to be Jonathan Anderson's stunning golden overlay all worked out of multiple rings.
#24. Show-Stopping Jewellery Pieces
True to form, some of the contemporary fashion designers could not but throw some never-seen-before show-stopping jewellery pieces on the fall 2016 runways. The target is more than evident – to keep more eyes on you for longer than usual. Loewe's creative director Jonathan Anderson bears the responsibility for spreading so much golden rigidness around via those multiple rings linked together to form chokers and bracelets. At Moschino show-stoppers are chandelier-shaped crystal earrings, while the voltage-shaped blue earrings at Jeremy Scott are sending out a strict warning to keep as far as possible. Just in case you need sharper experiences, go to grab those spiky dangling earrings at Lanvin. Dare not miss the bejewelled chokers at Oscar de la Renta becoming oversized bows at the nape or double padlock necklaces at Loewe.
Source: FASHIONISERS.COM